The second International E-Waste Day will be held on 14 October 2019 to promote the correct disposal of electrical and electronic equipment throughout the world.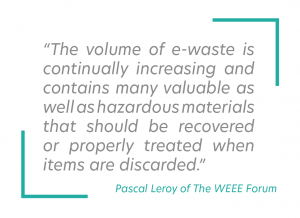 The initiative has been developed by the WEEE Forum, an international association of WEEE schemes.
Last year more than 50 organisations from over 40 different countries worldwide were involved and organised many different types of promotional activities, ranging from conferences and workshops, school and street collection campaigns to social media competitions and campaigns, and online guides and games.
Pascal Leroy, Director General of the WEEE Forum, said: "The volume of e-waste is continually increasing and contains many valuable as well as hazardous materials that should be recovered or properly treated when items are discarded.
"While consumer awareness of how to dispose of e-waste correctly is improving, it is still a struggle to ensure that e-waste is collected and treated by organisations with the correct facilities and channels, thereby guaranteeing that this is done so in a legitimate, safe and environmentally friendly way."