On 14th October we heard the Queen's speech and with many changes on the horizon the Queen reassured "My ministers remain committed to protecting and improving the environment for future generations" and even mentioned "plastic pollution".
"For the first time environmental principles will be enshrined in law. Measures will be introduced to improve air and water quality, to tackle plastic pollution and restore habitats so plants and wildlife can thrive. Legislation will also create new legally binding environmental improvement targets."
We eagerly await publish of the environmental bill, following the draft Environment (Principles and Governance) Bill in December 2018 which was subsequently updated in July this year. There is much speculation as to what the Environment Bill will include.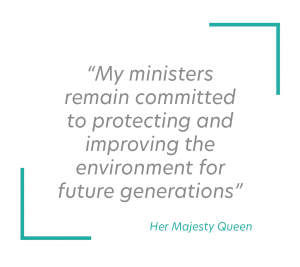 Environment Secretary Theresa Villers has said that "our landmark Environment Bill leads a green transformation that will help our country thrive". She added that it will ensure that after Brexit "environmental ambition and accountability are placed more clearly than ever before at the heart of government, both now and in the future".
The Department of the Environment referred to the waste management and recycling section of the Bill as offering a new direction for the sector that will "Transform the way we manage our waste – through powers to ensure that producers take responsibility for the waste they create, introducing a consistent approach to recycling, tackling waste crime, introducing bottle deposit return schemes and more effective litter enforcement."
Executive Director of the Environmental Services Association (ESA), Jacob Hayler, has said that "If implemented correctly, a new Environmental Bill could unlock billions in new investment in the UK by the environmental services sector which, in turn, will help Government deliver on its ambitious plans to reduce waste; preserve natural resources; tackle the scourge of litter polluting our natural environment; and tackle waste crime – among wider environmental goals related to air quality, nature and water preservation and CO2 reduction."
In relation to the Resources and Waste Strategy, Jacob Hayler also highlighted that "major new reforms are coming which will have a profound impact on producers and the way things are made; how we collect materials when they are discarded; how we treat those materials and how waste services are funded." He added that new legislative framework must be provided in the Environment Bill to "underpin this next phase of investment."