The Recycling Tracker is an annual survey which has been undertaken by WRAP since 2004 making it the longest running and largest survey of its kind. The survey of UK Households gathers evidence on recycling attitudes, knowledge and behaviours.
This year WRAP saw the largest sample of people taking part with over 5000 online interviews completed in March 2019. The results showed a significant increase in recognition of the Recycle Now swoosh logo; 75% of respondents were familiar with the logo compared to 45% of those sampled in 2018.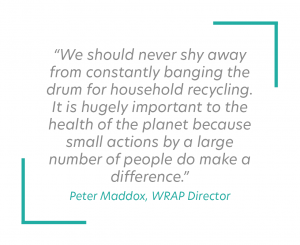 What's more 77% of the 75% stated that they are recycling more, and three in five households also reported extra recycling of one of more items therefore suggesting an overall increase in recycling efforts by individuals.
The tracker also demonstrated that social norms are strongly associated with positive recycling behaviour. Peter Maddox, WRAP Director said "We should never shy away from constantly banging the drum for household recycling. It is hugely important to the health of the planet because small actions by a large number of people do make a difference. What you do influences your friends, family and neighbours. We all take cues from others so the more of us that take recycling into our own hands – the more will join us."
Following Recycle Week which ran from 23rd to 29th September 2019, Craig Stephens, Campaign Manager for Recycle Now, said "We know there is a great deal of enthusiasm and the public want to do as much as they can" and went on to add "this year more than ever, we have people's attention".