A cabinet reshuffle by the newly appointed Prime Minister, Boris Johnson, has seen Theresa Villiers take over as the Secretary of State for Environment from Michael Gove.
Mr Johnson's reshuffle has prompted wider changes in the Department for Environment, Food and Rural Affairs, with Therese Coffey taking on a more senior role as Minister of State, while Zach Goldsmith has joined in a joint role with the Department for International Development.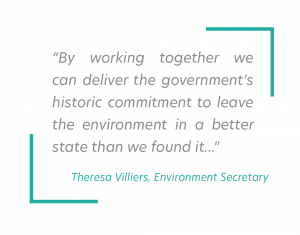 As Mr Gove's replacement, Ms Villiers joins Defra at a crucial time as it looks to continues to push forward with measures set in motion through the Resources and Waste Strategy.
And, early comments from the Minister suggest that she will look to work closely with industry on the development of policy going forward.
In her initial comments since taking up the role, she said: "I feel honoured to have been asked by the Prime Minister to take on the role of Secretary of State for Defra.
"The issues this department deals with are incredibly important and I have championed a number of them, including air quality and animal welfare.
"In the coming weeks I look forward to meeting key stakeholders in the food, farming, fishing and environmental sectors. By working together we can deliver the government's historic commitment to leave the environment in a better state than we found it and to seize the opportunities offered by Brexit."